Why should your company invest in industrial cleaning machines?
By Industrial Vacuums & Engineering
12/21/2020 Industries are using Industrial Cleaning machines instead of traditional methods of cleaning such as mop and a broomstick as it reaps many different benefits apart from effective cleaning! The adaptation not only improves workspace cleaning, but employing customized Industrial cleaning machines also ensures increased productivity, better healthcare precautions of workers, hazardous dust contamination and also for cost-efficiency!
To know how a small compatible machine can help an industrial space or a job site in reaping all these benefits, read about all the exclusive features of Industrial Vacuums that lead to such extensive benefits:

Exclusive Features of Industrial Vacuum Cleaners:Strong suction for quick and effective cleaning:For those industries where dust is hazardous and requires cleaning solutions that reduce airborne dust particles, industrial vacuums are the best alternative. Where traditional methods lead to increased spread of dust particles in the air, industrial vacuum controls it completely.
Apart from that, did you know Industrial Vacuums are 30% faster than portable small vacuum cleaners? This leads to quick cleaning and can allow workers to focus on other tasks that can lead to increased productivity.
Completely customizable for all your industry needs:Whether you need an industrial vacuum for hazardous dust contamination or with long hose or with plastic dust storage bags or with multiple attachments, our Vacuums are completely customizable and can fulfil all your industrial cleaning requirements. To ensure our machine's capabilities, you can also schedule an obligation free onsite demo!
Advanced filters and attachments for hazardous dust contamination:Whether you need industrial vacuums for Asbestos dust contamination or Lead dust particles or you need it for silica dust contamination, our vacuums are effective and certified for hazardous dust contamination. We also have specialized liquid vacuums for those industries that need to clean their liquid like oil and lubricant and separate liquid from solid waste.
Read more: What to Look for in an Industrial vacuums?
Multiple attachments for different types of dusts:Right from dry dust to wet dust slurry to concrete and heavy dust, our industrial vacuums has all the necessary equipments to clean all types of dusts and that too in one single instance! Even for large spaces that require long hoses for effective cleaning; we can cater to all your requirements and that too with complete efficiency.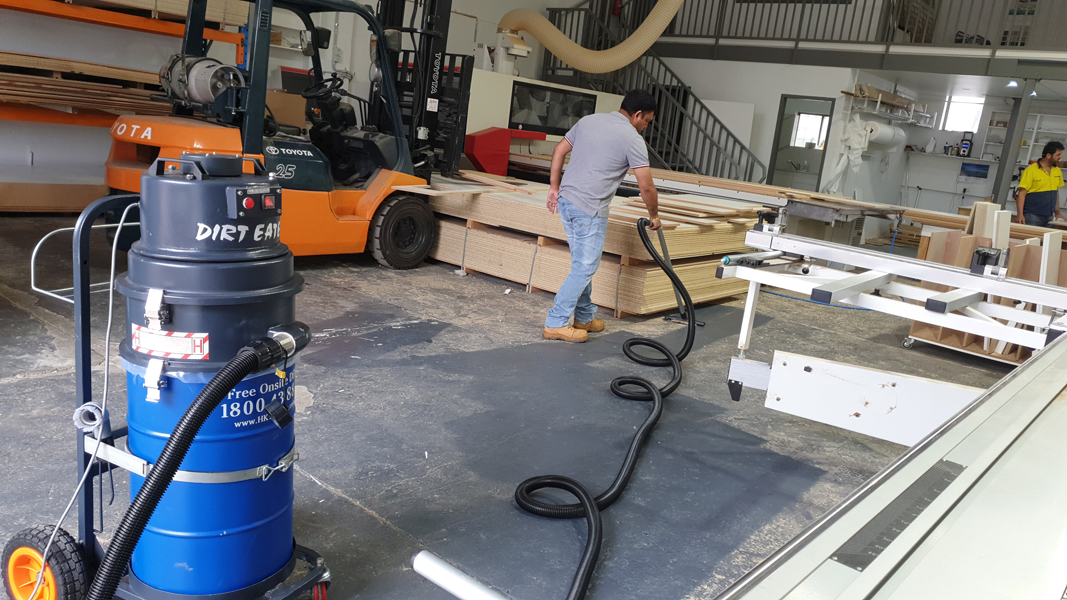 Strong dust storage bags for effective dust disposal:There are many instances where companies and industries had to pay heavy damage costs and on-the-spot fines for ineffective dust disposals. While most industrial vacuums come with bagless dust storage, our industrial vacuums come with plastic storage bags that can ensure effective dust storage and leak-proof disposal without any risks. Thus, our industrial vacuums can save you from unnecessary damage pays and fines.
It is certainly said that buying an industrial vacuum is not an expense but an investment that would contribute towards a cleaner, better, and healthier workspace. Also, the industrial cleaning machines that we provide are much more durable and heavy-duty for elongated uses and thus, in the long run, they also prove to be affordable cleaning solutions.
Call Today on +61 0426 291 402 Or Toll-free +61 1800 438 822 or Email Us On hello@industrialvacuums.net.au.

original content published - industrial cleaning machines

About This Author
Industrial Vacuums & Engineering
Industrial Vacuums & Engineering is a specialist manufacturer and distributor of a range of powerful and versatile contractor-grade industrial vacuum cleaners suitable for a wide range of normally difficult vacuum jobs. we are based in western Sydney manufacturing Heavy Duty Cyclonic Industrial …